Mount Bromo Tumpak Sewu Waterfall Tour 3 Days 2 Nights
Mount Bromo Tumpak Sewu Tour 3 Days 2 Nights. Enjoy your trip to East Java by visiting Mount Bromo and Tumpak Sewu Waterfall with us on tripwisatabromo.com. One of the recommended tour packages when you are on vacation in Malang or Surabaya is Mount Bromo and the Tumpak Sewu waterfall because both are very easy to access from the cities of Malang and Surabaya.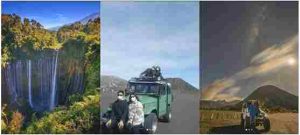 With a 3 day 2 night package tour to Mount Bromo and Tumpak Sewu Waterfall, you can fully enjoy the charm of beauty in each of these tourist attractions. An extraordinary adventure that will take you to natural attractions in East Java Indonesia to enjoy the sunrise from the top of Mount Bromo and the best panoramic view of the beauty of Tumpak Sewu Waterfall.
Bromo Tumpak Sewu Waterfall Tour is a popular tourist attraction in East Java, Indonesia. This tour offers a perfect blend of natural beauty and adventure. The tour covers two iconic locations, Mount Bromo and Tumpak Sewu Waterfall, which are known for their stunning landscapes and breathtaking views.
If there is still time left for a vacation in East Java, make your trip more complete by visiting Ijen Crater with a natural and rare phenomenon called blue fire. See here itinerary (Mount Bromo Ijen Tumpak Sewu Waterfall Tour 4 Days 3 Nights)
Mount Bromo Tumpak Sewu Waterfall Tour what to expect from there ?
Mount Bromo Tumpak Sewu Waterfall Tour is a unique experience that promises to leave you mesmerized. Here are some of the highlights of the tour:
Mount Bromo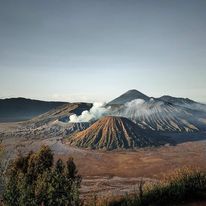 Mount Bromo is an active volcano located in East Java, Indonesia. The tour begins with an early morning jeep ride to the top of Mount Penajakan or Kingkong Hill, where you can catch a spectacular sunrise. The view of the sunrise above the clouds is absolutely mesmerizing and worth getting up early for.
Not only that, the jeep will take you to the sea of ​​sand Bromo, then you can walk along the sea of ​​sand to the top of Mount Bromo and witness the splendor of the crater.
On the route to the Bromo crater there is the only temple on the slopes of Bromo which is usually used as a traditional ceremony for the Tengger tribe, namely Kasada. You make it possible to stop by and capture a photo as a keepsake.
Tumpak Sewu Waterfall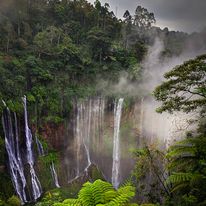 Tumpak Sewu Waterfall is one of the most beautiful waterfalls in Indonesia. This waterfall, which is located in Lumajang Regency, East Java, is known for its terraced waterfalls that create an amazing view. The tour involves trekking to the base of the waterfall, where you can swim in the refreshing waters and take some stunning photos.
Apart from the waterfall, near this location you can also go to the drip cave and other attractions such as the Nirwana waterfall if time permits.
Always be careful when climbing because the terrain is slippery and always pay attention to the weather because the waterfall is very dangerous to visit during the rainy season.
Itinerary Bromo Tumpak Sewu Waterfall Tour 3 Days 2 Night
Day 1 (Pick up point – Bromo Hotel)
The tour will start with picking up participants from Malang / Surabaya. Then prepare to go to the Mount Bromo area for approximately 3 hours of travel. Check in, free program
Day 2 (Bromo Sunrise Tour – Homestay in Lumajang)
Get up in the morning at 03.00 to prepare for the Bromo sunrise tour, then depart by Jeep Bromo to Mount Penanjakan / Kingkong Hill which is a favorite place to see the sunrise. From the point of view of Bromo Sunrise, you can see the highest mountain in Java, namely Mount Semeru.
Once satisfied to see the sunrise, return to the jeep and the second trip to Bromo Crater. Bromo Jeep will park 1 km before Bromo crater. From the jeep parking lot then walk or rent a horse to the stairs at Mount Bromo, then you will pass 250 stairs to the crater rim.
After returning from Bromo crater, the jeep will take you to the third location of Savana Hill / Teletubbies which continues until the last point of the tour which is whispering sand. Finally the Bromo jeep will take you back to the hotel.
Breakfast, shower, packing, check out the hotel and drive to Pronojiwo village in Lumajang City area about 4-5 hours away by private car. You can stop wherever you want, talk to our driver or guide. Check in Tumpak Sewu Homestay Area (because there are no hotels around Tumpak Sewu), Free Program
Day 3 (Tumpak Sewu Waterfall Tour – Drop Off)
Before heading to the waterfall, have breakfast first then walk to Tumpak Sewu Waterfall. This waterfall is very different from other waterfall tours because we have to follow the river, up and down the cliff. Of course we have to be extra strong and careful.
This waterfall which is classified as an extreme journey is synonymous with adventure, it takes 3-5 hours to explore a series of tours in Tumpak Sewu: Panorama of Tumpak Sewu Waterfall, Nirwana Waterfall, Blue Lake and Goa Tetes. Goa Tetes is a cave with rainfall and a lake in it and then a waterfall and there are naturally formed stalactites and stalagmites.
After finishing at the three places, then return to the accommodation area, have lunch, take a shower and then get ready to be dropped off in Malang or Surabaya. Tour ends.
The Price of 3D/2N Tour Mount Bromo Sewu Waterfalls
Contact us by Email : bromomalangtour@yahoo.com
| Participant | Price Per Person |
| --- | --- |
| 2 | IDR 3.000.000/person |
| 3 | IDR 2.350.000/person |
| 4 | IDR 2.050.000/person |
| 5 | IDR 1.850.000/person |
Facilities Tour Includes :
Private car for whole trips ( licensed driver , fuel, private car with AC, toll ticket, parking )
4WD jeep for Bromo Sunrise
All entrance to the National Park Bromo, Tumpak Sewu Waterfall
Local guide in Tumpak Sewu Waterfall
1 night Hotel in Bromo
1 night Homestay Tumpak Sewu
Breakfast
Mineral water is available in the car
Facilities not includes :
Horse
Meal (lunch and dinner)
Tipping
Travel insurance