Bromo Ijen Tour Package from Malang or Surabaya 3 Days 2 Nights
Bromo Ijen Tour Package is a short trips that will take you to two of the most majestic volcanoes in East Java Indonesia; tour Mount Bromo and Ijen Crater. Mount Bromo Ijen tour 3 days from Surabaya or Malang and dropped off at Ketapang Banyuwangi ferry port to Bali or returning to the same place in Surabaya or Malang is the most perfect itinerary.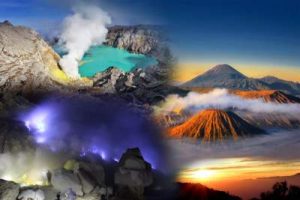 3 days 2 nights itinerary is very well planned based on transitions between locations, dining and accommodation close to tourist attractions. Tripwisatabromo.com is a tour company with a reputation for special experiences to mount Bromo Ijen Crater and its surroundings since 2009. We offer fun trips that will make you feel more comfortable throughout your trip.
Mount Bromo Ijen Tour Package
Description Mount Bromo Ijen Tour Package – Ride a 4WD jeep across the sea of ​​sand to the Bromo peak in Pananjakan to watch the sun rise its first rays over the Tengger Caldera landscape. After that, drive back with a 4WD jeep to Bromo crater. The 4WD Jeep only reaches the final limit in the parking area then visitors have to walk / rent a horse for 2.5 km to the steps of Mount Bromo.
To reach the top of Bromo, you have to climb via 250 steps of concrete in order to see the spectacular Bromo crater. This mountain is one of the most accessible active volcanoes that anyone.
End the trip at Bromo by visiting the teletubbies hill, savanna and whispering sand before returning to the bromo hotel and continued to the location of Ijen crater.
The charm of Mount Ijen with its electric blue flames that can only be seen when the sky is still dark so you have to climb in the mid night, continued to enjoy the beauty of the turquoise-colored acid crater lake and the scenery of sulfur miners who come from local residents diligently carrying heavy loads of 70-80 kg on his shoulders to earn a living.
Tour Mount Bromo and Ijen Crater Blue Fire
Mount Bromo tour is to enjoy the charm of the sunrise. It is the most active volcano that is most visited by tourists. It has cool air and charming views. Before going to Mount Bromo, you must make preparations.
Meanwhile, the Ijen crater began to increase in tourist visits since National Geographic mentioned the electric blue fire in Ijen. You can see a rare natural phenomenon by climbing to the top of Mount Ijen at midnight for 2 hours and descending 45 minutes to the edge of the crater.
How to get from Bromo to Ijen
How long is the distance from Mount Bromo and Ijen? Both of these mountains are located in the province of East Java, Indonesia which can be reached by driving 4-5 hours from Mount Bromo to Ijen. The best way how to get to Mount Ijen from Bromo is by booking mount Bromo Ijen tour package 3 days 2 nights by private tour because there is almost no public transportation available to the place.
Mount Bromo Ijen Tour from Surabaya
Mount Bromo and Ijen Crater are in the province of East Java with the capital city of Surabaya. In this city there is an international airport that connects directly to several areas in Europe, Asia, America, etc.
For land travel such as trains, there are also many departure schedules from/to other major cities on the island of Java such as Jakarta, Bandung, Yogyakarta, etc.
The city of Surabaya is the main choice that you can choose to start your tour activities to Mount Bromo and Ijen Crater directly from the city or country where you live.
Surabaya to bromo ijen tour is the best choice for trip direct from your country with ending back to surabaya or bali.
Mount Bromo Ijen Tour from Malang
Malang City is the second largest city in East Java which also has an airport, train station and inter-city bus terminal within the province.
Malang can be the second alternative that can be chosen to start the journey to Mount Bromo and Ijen Crater, it's just that the access is only limited to the domestic area. Even so, Malang city is still ideal as a place to start tour to Bromo Ijen from Yogyakarta, Jakarta with a transit in Malang city.
Bromo Ijen tour from Malang ending to Bali the most in demand by foreign tourists who have a lot of vacation time in Indonesia.
Itinerary Mount Bromo Ijen Tour 3 Days 2 Nights
Day 1 : Surabaya/Malang – Mount Bromo Hotel
Our staff will greet you at pick-up point at Malang or Surabaya city and transfer to bromo with duration trip around 3 hours. Toward to hotel in bromo, check-in and free program
Day 2 : Mount Bromo Sunrise Tour – Bromo Crater – Ijen Hotel
03:00am : By jeep 4wd depart to Mt Penanjakan
05:00am : Watch the magnificent sunrise at the observation deck.
06:30am : Go across the desert by jeep to view the "Sea of Sand". Walk to the Bromo crater, or by horse (self-expense).
07:30am : Enjoy the great view from Bromo Crater. (*Can be added to visit the savanna, whispering sand, and teletubbies hills)
08:30am : Go Back to the hotel and have breakfast.
11:00am : Hotel check-out and Transfer to hotel in ijen
04:00pm : Check-in similar hotel near to ijen and free program
Additional tours:
The beauty of Mount Bromo is not only the view of the sunrise. If the weather is very good, the Milky Way in Bromo is a night view that is a pity to miss, especially if you are a photography lover. This tour will start at night with a jeep ride to the best view point for photography of the millions of stars in the sky. Most tourists will take Bromo tour camping for perfect results.

Madakaripura Waterfall is located on the slopes of Mount Bromo on the Probolinggo route, which means it is in the same direction as the route to kawah Ijen from mount Bromo. You have the opportunity to stop at the Madakaripura waterfall at the same time because it is close to Mount Bromo.
Day 3 : Ijen Crater Blue Fire – Surabaya or Ketapang Ferry Port or Bali
00:00am : Depart to Pal Tuding (est 1 hr' drive to Mt Ijen).
01:00am : Trail towards Blue Sulphur Lake leading by tour guide. Watch the magnificent blue flame. A two-hour hike is required to reach the rim of the crater (3km).
06:00am : View sunrise and crater lake of ijen. You will see there are some miners selling souvenirs of sulphur.
09:00am : Trekking down back to Paltuding Post and our staff we will transfer to Surabaya (est.7hrs) or Ketapang Banyuwangi Fery Port (est.2hrs) or to Bali (est.5hrs)
Tour ended.
Mount Bromo Ijen Tour Package Price 3D2N
Contact us by email : bromomalangtour@yahoo.com
| Total Participant | Price Per Person |
| --- | --- |
| 1 Person | IDR 5.500.000 Per Person |
| 2 Person | IDR 3.175.000 Per Person |
| 3 Person | IDR 2.520.000 Per Person |
| 4 Person | IDR 2.195.000 Per Person |
| 5 Person | IDR 2.000.000 Per Person |
| 6 Person | IDR 1.880.000 Per Person |
| 7 Person | IDR 2.130.000 Per Person |
| 8 Person | IDR 2.015.000 Per Person |
| 9 Person | IDR 1.927.000 Per Person |
| 10 Person | IDR 1.856.000 Per Person |
Note : add cost transport + ferry for transfer out to Bali (Ubud, Denpasar, Kuta, Cangu, Lovina, etc)
Package includes:
Local land car transport during trips including fuel, parking fee, toll
Hotel accommodation's including breakfast
English speaking driver for the whole trip
Entrance fees Bromo Semeru National Park and Ijen Crater
4WD for Mount Bromo tour
Ijen local guide
Gas mask rent in Ijen
Package excludes:
Return international air tickets
Travel insurance
Indonesian VISA (ASEAN citizens are VISA-free up to 30 days)
Lunch and dinner
Horse ride at Mount Bromo
Tips for driver / guide
All expenses of a personal nature
Tour Itinerary you might also like :
Preparation during tour to Mount Bromo and Ijen
Indonesia is a tropical country that has hot temperatures. However, the weather at Mount Bromo and Ijen Crater is very cold in the early hours of the morning so you need to bring and wear warm clothes/jackets, hiking shoes, and of course a camera to capture this moment.
The road trip is very long because Mount Bromo to Ijen is 4-5 hours away. Not to mention if the journey starts from Yogyakarta, Surabaya or Malang and drop off at ferry port to Bali, keep your stamina.