Mount Bromo Ijen Tumpak Sewu Waterfall Tour 4 Days 3 Nights
Mount Bromo Ijen Tumpak Sewu Tour Package 4 Days 3 nights depart from Surabaya or Malang and ends the trip at port Ketapang to Bali or returned to Surabaya or Malang airport or train station or hotel.
East Java is a province in Indonesia which is located at the eastern tip of the island of Java which borders the island of Bali, has a complete natural beauty ranging from volcanoes and waterfalls.
If you are planning a vacation to East Java, take 4 days to explore the natural beauty that is so popular, including: Mount Bromo, Ijen Crater and Tumpak Sewu Waterfall.
Mount Bromo Ijen Tumpak Sewu Tour 4 Days 3 Nights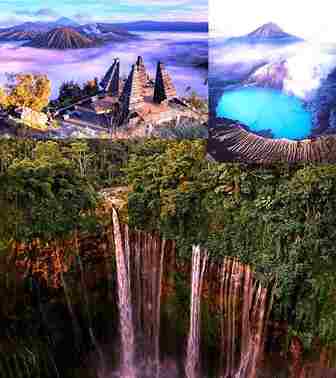 This is one of the recommended 4 days 3 nights adventure trip in East Java. You can visit the most popular volcanoes and the best waterfalls on the island of Java. Besides being suitable as a climbing tourist destination, it is also a photography tour of natural beauty.
You may also like :
What's interesting ?
Mount Bromo Ijen Tumpak Sewu Waterfall is a popular tourist destination in East Java, Indonesia. It is a unique combination of three of the most breathtaking natural attractions in the region. Mount Bromo is famous for its majestic sunrise and surreal landscape, Ijen Crater for its turquoise acid lake and blue fire phenomenon, and Tumpak Sewu Waterfall, known as the Indonesian Niagara Falls, for its impressive 120 meters height and stunning views. Together, these three attractions offer a unique and unforgettable experience for travelers.
Mount Bromo: A Surreal Landscape and Majestic Sunrise
Mount Bromo is a famous active volcano located in the Bromo Tengger Semeru National Park. It is one of the most visited tourist destinations in Indonesia, attracting thousands of visitors every year. The landscape around the volcano is surreal, with vast stretches of sand dunes and a picturesque savannah-like terrain. The highlight of a visit to Mount Bromo is the sunrise view, which is simply breathtaking. Watching the sunrise from the viewpoint on Mount Penanjakan is an unforgettable experience that should not be missed.
Ijen Crater: Turquoise Acid Lake and Blue Fire Phenomenon
Ijen Crater, located in the Ijen Plateau, is another popular natural attraction in East Java. The crater is home to a turquoise acid lake, which is the largest of its kind in the world. The sulfur mining activity in the area creates a unique blue fire phenomenon, making the crater even more spectacular. Visitors can hike up to the crater and witness the stunning views of the acid lake and the blue flames. It's a once-in-a-lifetime experience that should be on every traveler's bucket list.
Tumpak Sewu Waterfall: The Indonesian Niagara Falls
Tumpak Sewu Waterfall, also known as Coban Sewu, is a majestic waterfall located in the Lumajang Regency. It is often referred to as the "Indonesian Niagara Falls" because of its impressive height and stunning views. The waterfall is surrounded by lush green forests and offers a refreshing escape from the city's hustle and bustle. Visitors can hike down to the base of the waterfall and take a dip in the crystal-clear water. It's an ideal spot for nature lovers and adventure seekers alike.
How to get there ?
Mount Bromo, Ijen Crater and Tumpak Sewu Waterfall are three of the most beautiful destinations in Indonesia. Located in East Java, these three natural wonders have become popular tourist spots for foreign tourists who wish to experience the beauty of Indonesia's natural landscapes.
If you are planning a trip to this destination, you may be wondering how to get there. Below are some tips on the easiest way to get to Mount Bromo, Ijen, and Tumpak Sewu Waterfall.
To get to Mount Bromo, the easiest way is to fly to Juanda International Airport in Surabaya which is the closest airport to Mount Bromo. From the airport, you can take a private car to Cemoro Lawang village which is the closest village to Mount Bromo. The journey from Surabaya to Cemoro Lawang will take around 3-4 hours depending on traffic.
Once you arrive at Cemoro Lawang, you can book Hotel for stay overnight or direct rent a 4WD jeep to the viewpoint on Mount Penanjakan, hike to the crater of Mount Bromo and explore the surrounding area.
To get to Ijen, you can take a private car from Surabaya to the city of Banyuwangi or Bondowoso which is the gateway to Ijen. The journey from Surabaya to Bondowoso around 5-6 hours and to Banyuwangi will take around 7-8 hours depending on traffic.
Once you arrive in Bondowoso or Banyuwangi, you can stay overnight or direct to the Mount Ijen base camp / Paltuding. From there, continue climbing to the top of Mount Ijen, where you can witness the enchanting blue flames and the stunning turquoise lake.
Getting Tumpak Sewu Waterfall
To get to Tumpak Sewu Waterfall, you can rent a private car to Lumajang regency. Once at the entrance, you have to go down steep and slippery steps to reach the bottom of the waterfall. But once you get there, you will be amazed by the beauty of Tumpak Sewu Waterfall, with a 120 meter high waterfall and clear water.
Interested in Bromo Ijen Tumpak Sewu Tour
To visit these three best natural tourist attractions, you can book a Mount Bromo Ijen Tumpak Sewu tour package for 4 days 3 nights. which can depart from Malang, Surabaya, Yogyakarta by direct pickup from the international airport, train station or hotel.
We suggest picking you up in the morning so that the itinerary can be directed correctly. You can also end this trip back to the original place such as when picked up or dropped off at the ferry port heading to Bali.
We can customize this trip based on the pick-up and drop-off times. The following is an example of a travel itinerary.
Itinerary Bromo Ijen Tumpak Sewu Waterfall Tour 4 Days 3 Nights
Day 1: Pick up Point – Tumpak Sewu Homestay
Ou staff will pick up in the morning in Surabaya or Malang or Yogyakarta then drive straight to the Tumpak Sewu area. Check in homestay and free program
Day 2 : Tumpak Sewu Waterfall – Tetes Cafe – Mount Bromo Hotel
After breakfast the visit Tumpak Sewu Waterfall and Tetes Cave.
After finishing, then back to the homestay and check out.
Transfer to the hotel in Bromo. The drive takes about 4-5 hours. Check in hotel and rest.
Day 3: Bromo Sunrise Tour – Madakaripura Waterfall (Optional) – Ijen Hotel
Wake up at 3 am, the jeep driver will pick you up directly at the hotel to go to Penanjakan Sunrise Viewpoint. Then enjoy the sunrise in Bromo and watch the beauty of the landscape of the row of Mount Batok, Mount Bromo, Mount Widodaren with the background of Mount Semeru.
After that go back to the jeep and drive down to the sea of ​​Bromo sand. From the sea of ​​sand then walk or rent a horse to visit the Luhur Poten temple at the foot of Mount Bromo and climb the Bromo Crater.
After the Bromo tour, return to the jeep to transfer back to the hotel for breakfast and check out.
Continue the journey to the Madakaripura waterfall entrance which is 1 hour from Mount Bromo. Then walk along the river to reach the Madakaripura waterfall. After arriving at the location and explore the beauty of Madakaripura waterfall.
Finish the Madakaripura waterfall tour then return to the parking area and drive to the hotel in Ijen with a duration of 4-5 hours drive. Check in hotel and rest.
Day 4 : Ijen Crater Blue Fire – Drop Off
Wake up at 12 p.m.
Our driver will take you to Paltuding (starting point for climbing) with a driving time of about 1,5 hour. Arriving at the Paltuding parking area then guided by a local guide to the top of Mount Ijen with a 1.5 hour climbing time and then you can watch the blue fire of Ijen, the sun rising and the view of the sulfur crater lake.
Satisfied to enjoy the natural beauty of the crater of Mount Ijen then climb down to the parking area and prepare for us to return to Surabaya with a driving distance of about 6-7 hours or transfer to ferry port to Bali with a driving distance of about 1,5 hour. Tour ended.
Note : If you have a set schedule but are interested in this tour, please contact us to adjust the itinerary details.
Mount Bromo Ijen Tumpak Sewu Waterfall Tour Package Price 4D3N
Contact us by email : bromomalangtour@yahoo.com
| Participant | Price Per Person |
| --- | --- |
| 1 | IDR 7.458.000/person |
| 2 | IDR 4.083.000/person |
| 3 | IDR 3.228.000/person |
| 4 | IDR 2.800.000/person |
| 5 | IDR 2.544.000/person |
| 6 | IDR 2.373.000/person |
Note :
The price are valid for pick up in Surabaya or Malang city and end in the Banyuwangi area (ferry port to Bali or Blimbingsari airport) or return to Surabaya and Malang, and vice versa.
The package can also be arrange pick-up/transfer from Bali with an additional cost. Different pickup areas will have an impact on the final itinerary.
Prices do not apply to peak season period in Indonesia (Muslim holidays)
Tour Included :
Private car for trips ( licensed driver, fuel, private car with AC, toll ticket, parking )
4WD jeep for Bromo Tour
All entrance fee to the National Park Bromo
Entrance fee to the Tumpak Sewu Waterfall
Entrance fee to the Mount Ijen include Blue Fire
1 night Hotel in Bromo
1 night Hotel in Ijen
1 night Homestay in Tumpak Sewu
Daily Breakfast
Local Guide at Ijen
Local Guide Tumpak Sewu Waterfall
Gas Mask Rent in Ijen
Tour Excluded :
Personal expenses
TaxiBike at Madakaripura Waterfall
Local Guide at Madakaripura Waterfall
Entrance Fee Madakaripura Waterfall
Lunch & Dinner
Horse Riding In Bromo
Rent trolley in Ijen (Available for rent along with the handlers, the trolleys will transport tourists up to the top of Ijen Crater and back to the site).