Mount Bromo Ijen Tumpak Sewu Waterfall Tour 4 Days 3 Nights
Mount Bromo Ijen Tumpak Sewu Tour Package 4 Days 3 nights depart from Surabaya or Malang and ends the trip at port Ketapang to Bali or returned to Surabaya or Malang airport or train station or hotel.
East Java is a province in Indonesia which is located at the eastern tip of the island of Java which borders the island of Bali, has a complete natural beauty ranging from volcanoes and waterfalls.
If you are planning a vacation to East Java, take 4 days to explore the natural beauty that is so popular, including: Mount Bromo, Ijen Crater and Tumpak Sewu Waterfall.
Mount Bromo Ijen Tumpak Sewu Tour 4 Days 3 Nights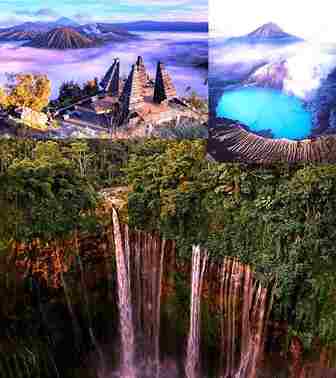 This is one of the recommended 4 days 3 nights adventure trip in East Java. You can visit the most popular volcanoes and the best waterfalls on the island of Java. Besides being suitable as a climbing tourist destination, it is also a photography tour of natural beauty.
You may also like :
What's interesting ?
What's amazing about Mount Bromo is its golden sunrise which is one of the best places on the island of Java to enjoy the sunrise view and also the unique shape of the mountain which is located on a vast sea of ​​sand so it is different from other volcanoes which generally soar high into the sky.
Ijen Crater or Mount Ijen in Banyuwangi has the feature of the largest sulfur crater lake in the world and no less interesting is a rare natural phenomenon commonly called the Ijen Blue Fire which we can only find on this mountain in the world.
Tumpak Sewu waterfall in Lumajang is a natural destination that is a pity to miss, although there are many waterfalls in Java. The uniqueness of this waterfall is its shape like a curtain with thousands of springs from the foot of Mount Semeru. If in America, this waterfall is similar to Niagara waterfall even though the water discharge is not as big as the one there.
How to get there
Book Mount Bromo Ijen Tumpak Sewu tour package 4 days 3 nights. Departing from Malang is the best journey, but it is possible to depart from Surabaya or Yogyakarta (international airport, train station or hotel).
Our advice is to pick you up in the morning so that the itinerary can be directed correctly. You can also end this trip back to Surabaya, transfer to the port to Bali or Yogyakarta.
Itinerary Bromo Ijen Tumpak Sewu Waterfall Tour 4 Days 3 Nights
Day 1: Pick up Point – Tumpak Sewu Homestay
Ou staff will pick up in the morning in Surabaya or Malang or Yogyakarta then drive straight to the Tumpak Sewu area. Check in homestay and free program
Day 2 : Tumpak Sewu Waterfall – Tetes Cafe – Mount Bromo Hotel
After breakfast the visit Tumpak Sewu Waterfall and Tetes Cave.
After finishing, then back to the homestay and check out.
Transfer to the hotel in Bromo. The drive takes about 4-5 hours. Check in hotel and rest.
Day 3: Bromo Sunrise Tour – Madakaripura Waterfall (Optional) – Ijen Hotel
Wake up at 3 am, the jeep driver will pick you up directly at the hotel to go to Penanjakan Sunrise Viewpoint. Then enjoy the sunrise in Bromo and watch the beauty of the landscape of the row of Mount Batok, Mount Bromo, Mount Widodaren with the background of Mount Semeru.
After that go back to the jeep and drive down to the sea of ​​Bromo sand. From the sea of ​​sand then walk or rent a horse to visit the Luhur Poten temple at the foot of Mount Bromo and climb the Bromo Crater.
After the Bromo tour, return to the jeep to transfer back to the hotel for breakfast and check out.
Continue the journey to the Madakaripura waterfall entrance which is 1 hour from Mount Bromo. Then walk along the river to reach the Madakaripura waterfall. After arriving at the location and explore the beauty of Madakaripura waterfall.
Finish the Madakaripura waterfall tour then return to the parking area and drive to the hotel in Ijen with a duration of 4-5 hours drive. Check in hotel and rest.
Day 4 : Ijen Crater Blue Fire – Drop Off
Wake up at 12 p.m.
Our driver will take you to Paltuding (starting point for climbing) with a driving time of about 1,5 hour. Arriving at the Paltuding parking area then guided by a local guide to the top of Mount Ijen with a 1.5 hour climbing time and then you can watch the blue fire of Ijen, the sun rising and the view of the sulfur crater lake.
Satisfied to enjoy the natural beauty of the crater of Mount Ijen then climb down to the parking area and prepare for us to return to Surabaya with a driving distance of about 6-7 hours or transfer to ferry port to Bali with a driving distance of about 1,5 hour. Tour ended.
Note : If you have a set schedule but are interested in this tour, please contact us to adjust the itinerary details.
Mount Bromo Ijen Tumpak Sewu Tour Price 4D3N
Contact us by email : bromomalangtour@yahoo.com
| Participant | Price Per Person |
| --- | --- |
| 1 | IDR 7.458.000/person |
| 2 | IDR 4.083.000/person |
| 3 | IDR 3.228.000/person |
| 4 | IDR 2.800.000/person |
| 5 | IDR 2.544.000/person |
| 6 | IDR 2.373.000/person |
Note :
The price are valid for pick up in Surabaya or Malang city and end in the Banyuwangi area (ferry port to Bali or Blimbingsari airport) or return to Surabaya and Malang, and vice versa.
The package can also be arrange pick-up/transfer from Bali with an additional cost. Different pickup areas will have an impact on the final itinerary.
Prices do not apply to peak season period in Indonesia (Muslim holidays)
Tour Included :
Private car for trips ( licensed driver, fuel, private car with AC, toll ticket, parking )
4WD jeep for Bromo Tour
All entrance fee to the National Park Bromo
Entrance fee to the Tumpak Sewu Waterfall
Entrance fee to the Mount Ijen include Blue Fire
1 night Hotel in Bromo
1 night Hotel in Ijen
1 night Homestay in Tumpak Sewu
Daily Breakfast
Local Guide at Ijen
Local Guide Tumpak Sewu Waterfall
Gas Mask Rent in Ijen
Tour Excluded :
Personal expenses
TaxiBike at Madakaripura Waterfall
Local Guide at Madakaripura Waterfall
Entrance Fee Madakaripura Waterfall
Lunch & Dinner
Horse Riding In Bromo
Rent trolley in Ijen (Available for rent along with the handlers, the trolleys will transport tourists up to the top of Ijen Crater and back to the site).