Mount Bromo Tour Sunrise from Probolinggo
Mount Bromo Sunrise from Probolinggo. Mount Bromo is located in the 4 district border areas in East Java. The path to Mount Bromo can pass through 4 entrances from each region. If you are looking for the closest route to Bromo, Probolinggo is the right choice because it is only an hour drive away.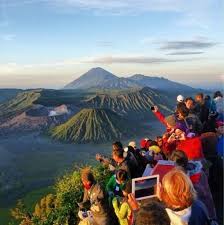 In Probolinggo there is a train station with scheduled arrivals from Lempuyangan Yogyakarta station, Malang Old Town station, Gubeng Surabaya station, Banyuwangi Kota station and bus terminal that come from Malang Arjosari terminal, Surabaya Purabaya terminal, and Denpasar Bali Mengwi terminal. With adequate transportation facilities, it is easier for tourists to find the right service according to their travel schedule.
Itinerary Tour Bromo Sunrise from Probolinggo
02.00am we will pick you up in the Probolinggo city area
02.00am-03.00am Drive to the shuttle jeep area.
03.00am-04.00am Drive by jeep to sunrise view point at Pananjakan hill (other options at Bukit Kingkong, Bukit Cinta, Seruni Point, etc). From the jeep parking location, you still have to walk with the distance depending on the jeep parking position.
04.00am-06.00am Watch the sunrise and the view of the symmetrical row of Mount Batok, Mount Bromo and Mount Widodaren with a backdrop of Mount Semeru.
06.00am-06.30am Drive to Bromo sand sea of sand.
06.30am-07.30am From the parking area then walk to Bromo crater for 1km (alternative can be by horse).
When walking us on this route you can find the building of a potent temple which is usually used as a place for the Bromo Kasada ceremony which is held every year.
07.30am-08.30am Enjoy the beauty of Bromo crater. And after being satisfied, go straight back to the parking area
08.30am-09.30am Drive to the shuttle jeep area
09.30am-10.30am Return to Probolinggo city and the mount bromo tour sunrise from Probolinggo is ended.
Midnight Bromo Tour Price from Probolinggo for sunrise
For more detailed information about this tour, please contact our service.
By Email : bromomalangtour@yahoo.com
Notes:
If you are interested in the savanna / teletubbies hill and whispering sand, an additional Bromo jeep rental fee will be charged.
You can ends trip to Malang, Surabaya, Jogja and Bali for an additional fee.
Or you can continue the journey to other tourist destinations in East Java which are very familiar to foreign tourists, for example: Madakaripura Waterfall, Ijen Crater, Tumpak Sewu Waterfall for an additional fee.
Recommended tour :