Ijen Bromo Tour from Bali 3 Days 2 Nights
Mount Bromo and Ijen crater is the most popular tourist destination from Bali to Java. It has become a must-visit place for foreign visitors. Ijen Bromo tour from Bali offers you the best experience, because it takes you to the largest sulfur crater lake and allows you to enjoy the beauty of the Bromo sunrise without the need to climb far up the mountain. The road to Bromo Ijen is quite winding but still worth it! In this article, we will tell you the details of the trips and the prices of the packages we offer.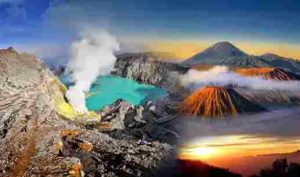 Ijen Bromo Tour from Bali
Ijen bromo tour from Bali is a must do for those who want to see the famous crater of Bromo and its surrounding area. This is also one of the most beautiful places in Indonesia, so if you are planning on visiting this region then it is better that you start your journey with an itinerary that includes this destination.
The tour starts with a trip to Mount Bromo and then continues to the Ijen Crater. The tour will last for about 7 hours, but it is definitely worth going because you will get to see some of the most beautiful views that Indonesia has to offer.
Bali Ijen Bromo Tour 3 Days 2 Nights
Ijen Bromo Tour from Bali is one of the most exciting tours in Indonesia. You can choose to go on a private tour. There are several ways to get there, but we recommend that you travel via land transport because it's cheaper and easier than traveling by plane.
If you want to see Bromo Ijen, then we recommend taking 3 days 2 nights trip from Bali. If this option does appeal much to you, then consider going with somecone / local travel agency such ass tripwisatabromo.com who knows how best to experience this natural wonder!
Itinerary Bali Ijen Bromo Tour Package 3 Days
Day 1: Pick Up at Bali Island – Ijen Hotel
The journey starts with picking up participants in Bali such as Denpasar, Kuta, Ubud and surrounding areas. Then participants are taken to Banyuwangi (4-5 hours drive depending on where to start), Check in Hotel and free program.
Day 2: Ijen Blue Fire Tour – Bromo Hotel
At 12 pm participants were escorted to the Paltuding Post for about 1.5 hours, Paltuding Post is the location where the start to climb to Ijen Crater. Then trekking about 1.5-2 hours to get to the crater. After enjoying the view of the Ijen blue fire and the panorama of Ijen Crater Lake, then return to the Paltuding post and drive to the Hotel Near Mount Bromo with a long journey of approximately 4-5 hours. Arriving at Bromo Hotel, check in Hotel, rest.
Day 3: Tour Bromo Sunrise – Drop off at Surabaya / Malang / Yogyakarta
Bromo sunrise tour starts at 03.30, the jeep will pick you up at the hotel and take you to mt penanjakan which is the best point location to see a beautiful sunrise with a panoramic view of the row between Mount Bromo and the highest volcano in Java, Mount Semeru.
After the sun rises, the next tour in the Mount Bromo area is to go to the Bromo sand sea and climb the Bromo crater.
Finish the tour at Mount Bromo sunrise and the crater back to the hotel for breakfast, pack up and drive to your destination in Surabaya, Malang or Yogyakarta. the tour is ended.
Mount Bromo and Ijen Tour Price 3D2N from Bali
Enjoy a Bromo Ijen Tour with us. We are experienced and has local insight, let us know how we can help you!
We are experienced and has local insight, let us know how we can help you!
We have a great reputation with our customers, they trust us to provide them with quality services. We also offer customer service that is second to none so if you have any questions or concerns please don't hesitate to contact us.
Why travel with us ?
We are professional, reliable and have years of experience in the industry. We have local insight and knowledge of the area. Our trips are personalised to meet your needs or interests.
What to expect on this tour?
Travel with a local tour guide. Visit the best spots in Bromo and Ijen. Enjoy the natural beauty of Java from Bali! Get to know more about culture and history while you are there.
We would like to help you on your next trip, and make sure that you get the most out of it. If you are looking for a travel company that can provide Bali Ijen Bromo Tour booking services, please contact us today.