Mount Bromo Tour Package 3 Days (Volcano and Waterfall Tour)
Mount Bromo Tour Package 3 Days – tripwisatabromo.com offers a tour to see the nature of Mount Bromo and its surroundings for 3 days. The scenery around Mount Bromo that you can visit at the same time is Ijen Crater, Madakaripura Waterfall and Tumpak Sewu Waterfall. That's the choice of the most popular destinations today in East Java as a tourism destination.
3 days 2 nights in East Java is the right time because with this you can visit the best tourist attractions in East Java such as volcanoes and waterfalls. The most popular volcanoes are Mount Bromo and Ijen Crater, while the most popular waterfalls are Madakaripura and Tumpak Sewu.
Mount Bromo Tour Package 3 days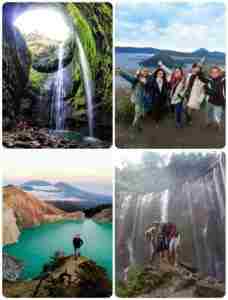 The best choices of tourist visits, which are summarized by combining volcano and waterfall tours duration 3 days 2 night , are as follows.
Bromo Ijen Volcano tour package is the top choice because this combination is the main one chosen by tourists. Although visiting the volcano, participants will not be difficult to reach the peak because these two mountains are quite easy to climb.
See itinerary : https://tripwisatabromo.com/tours/mount-bromo-ijen-tour-3-days/
Visiting Mount Bromo and Tumpak Sewu Waterfall is a list of the second best tour packages that you can choose. With 3 days you can enjoy the natural charm of Mount Bromo sunrise and the best waterfall on the island of Java.
See itinerary : https://tripwisatabromo.com/tours/mount-bromo-tumpak-sewu-waterfall/
Bromo Madakaripura Waterfall Tour 3 Days
Mount Bromo to Madakaripura Waterfall are only about 1 hour drive away with route to bromo from Probolinggo . Maybe 3 days is long time if you only visit these two tourist attractions, but with the choice of this tour package you have more opportunities to enjoy the charm of beauty that is on Mount Bromo such as Milky Way tour in Bromo, namely seeing the clusters of millions of stars in the sky at night around Mount Bromo.
Tour to Bromo and Ijen Crater as well as visiting Madakaripura Waterfall and Tumpak Sewu Waterfall is the most complete tour from the choices we offer. However, to take a 3 day tour package to visit Bromo, Ijen and 2 waterfalls participants must be in a strong body condition because the activity is quite solid. If you want a more relaxed trip, you can book Mount Bromo Ijen Tumpak Sewu tour package 4 days 3 nights.
Mount Bromo Package Price 3 days
Which of the 4 options above is of interest to you? Immediately contact our service to get a price quote and facilities for Bromo tour packages 3 days 2 nights.