Mount Bromo Sunrise Tour From Surabaya or Malang
Mount Bromo Sunrise Tour is a tour to Mount Bromo to see the natural beauty of Mount Bromo, namely the view of the sunrise / golden sunrise tour. Bromo Midnight Tour is one of the most recommended Bromo tour package from Surabaya or Malang to see the Bromo sunrise without staying overnight and cheap.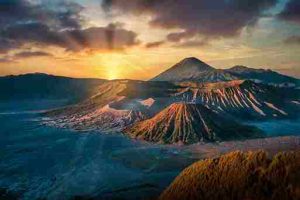 If you are in Surabaya or Malang and want to go to Mount Bromo it is very easy. You only need a 3 hour drive to reach the location of Mount Bromo without having to look for accommodation there and leave at midnight.
Mount Bromo Sunrise Tour from Surabaya or Malang
The adventure to pursue the beauty of the Bromo sunrise begins with a pick up at your hotel in the Surabaya or Malang area then by our driver being escorted to the Mount Bromo area.
Arrive around Mount Bromo area then take a jeep to Mount Penanjakan where you will witness a perfect sunrise view.
Enjoy a warm drink while waiting for the Bromo sunrise which will appear at 5.00 am. After the sun rises to the sky, you will be escorted to the Bromo sand sea and climb to the top of Mount Bromo with an not difficult track to enjoy the spectacular view of Bromo Crater.
Descending from the top of the panoramic view of Mount Bromo and the jeep will return to the jeep tansit point. Our driver will drop you back to your accommodation in Surabaya or Malang.
You may also like : Mount Bromo from Probolinggo
Itinerary Tour :
00.00 – Pick up in Surabaya or Malang area then go to Cemoro Lawang village (nearest village in Bromo)
03.00 – Arrive at Cemoro Lawang village then take a Jeep and drive through the sea of ​​sand to reach Pananjakan Peak (2,770 m). Peak Penanajakan is the best location to watch the sunrise and panoramic views of Mount Batok, Mount Bromo and Mount Semeru (higher peak of Java Island).
06.00 – take the jeep back to the sea of ​​sand of Mount Bromo, continue the easy hike through the volcanic sea sand as far as 1.5 km which can be taken for 25 minutes or horseback riding (optional) to visit Bromo Crater, then climb 250 stairs to see the crater Mount Bromo.
09.00 – After that return to the jeep parking lot and return to the village of Cemoro Lawang. Drive back to Surabaya or Malang which takes approximately 2.5 – 3 hours drive.
13.00 – Arrive in Surabaya or Malang at the place you choose (hotel, station, airport) and end of trip.
The Price Include & Booking Tour :
How much does it cost Mount Bromo sunrise depart at midnight from Surabaya or Malang ? please contact us :
Tour Include :
Air-conditioned private transportation
Entrance fees Bromo Semeru National Park
(4WD) Mt Bromo Jeep Tour
Mineral Water
English Speaking Driver
Mount Bromo private tour
Tour Exlude :
Tipping for Tour Guide / Driver
Personal Expenses
Travel insurance
1 Night hotel in Bromo
People also ask ?
What time do you arrive in Surabaya or Malang after Bromo sunrise?
In general, arrive again in Surabaya or Malang around 1 pm but it depends on you how long you are in Mount Bromo.
what time is sunrise in bromo?
the sun starts to appear between 5.00 – 05.30 in the morning.
What activities do you while waiting for the sun to rise?
There is no other activity other than waiting for the sun to rise.
Where is the place to see the sunrise in Bromo?
There are many places like Penanjakan 1 Hill, Kingkong/Kedaluh Hill, Love Hill, Mentigen Hill, Seruni Point. But the best place to see the sunrise is penanjakan peak 1.
Do have to take a jeep to see the sunrise?
Do not have to. You can hike, ride a motorbike, ride a horse. But the most recommended is a jeep ride.