Bromo Mountain East Java, Indonesia
Bromo Mountain East Java Indonesia. Mount Bromo in East Java is a popular tourist destination in Indonesia. This region is famous for its natural beauty and cultural heritage. Mount Bromo is part of the Bromo Tengger Semeru National Park which can be reached by 3 hours driving from Surabaya and 2 hours driving from Malang.
Mount Bromo is one of the highlights of East Java, Indonesia and is one of the the most visited natural attractions in South East Asia. The immediate gateway to Mount Bromo for tourists is from the city of Surabaya although there are increasingly more tourists visiting it from Bali.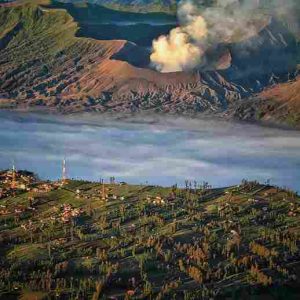 Bromo Mountain, East Java, Indonesia
Bromo is a beautiful and active volcano in East Java. It is small when compared to other volcanoes in Indonesia. Mount Bromo with a height of 2,392 meters will not disappoint visitors because of its spectacular views with the charm of a stunning sunrise.
Mount Bromo Facts
Known affectionately by the locals as Gunung Bromo, Mount Bromo is an active volcano located in East Java, Indonesia. Although it stands at only 2.3km and nowhere near the highest mountain in Indonesia, it is probably one of the most well known and definitely the most visited tourist attraction in East Java.
Located in the middle of 'Sand Sea' (Lautan Pasir), Mount Bromo is part of the protected reserve, Bromo Tengger Semeru National Park.
Mount Bromo Tips & Guides
Go at least a week before your trip so that you have enough time for planning purposes (e.g. booking a hotel) etc.* Bring warm clothes as the weather in Bromo is cooler at night than during the day.* Bring enough cash along with the card credit or traveler's check due to limited nearby banking services (you may need a withdrawal/transaction).
Whenever possible, visit on a weekday to avoid massive crowds during the weekends (Saturday & Sunday)
Most of the Mount Bromo sunrise tour will start from Mount Penanjakan to catch the breath-taking sunrise. However, not many people know that you could actually consider going to Kingkong Hill instead. It's much lower than Mount Penanjakan but offers equally great view of Mount Bromo
Bring along your own necessities and supplies: water, tissue, towels, and even light snacks if you need to. If you need get anything during the whole sunrise tour, you could only pray to get them from some of the warung (tiny local shops), that is if they even have what you're looking for!
Wear your most comfortable and sturdy shoes. You will do quite a bit of walking and climbing around Mount Penanjakan and Mount Bromo. You want to be comfortable and safe throughout the journey
Bring sunglasses. Sometimes it might get windy and when you're down at the 'Sea of Sand', dust / sand might get into your eyes
As the temperature around the mountain can go down to below 10 degrees, bring along extra / winter clothing to keep yourself warm
Bring some Rupiah along as you might need to pay for the entrance fee, horse ride, tour guide, and even some necessities purchase
Last but not least, be respectful of the local culture and surrounding. Dress and behave appropriately. Locals there still believe in spirits guarding the volcano giving respect to mother nature.
What to do in mount Bromo
Bromo mountain is the best place to visit in Indonesia. Mount Bromo, located in the province of East Java, is one of the most popular tourist destinations in Indonesia.
The stunning scenery around Mount Bromo is the charm of the beauty of the various landscapes that will amaze you. You can also enjoy simple hiking, horse riding and 4wd car driving on this magical mountain where the whole area is filled with fine sand.
Watching the Sunrise from the Highest Peak. All visitors in Bromo will see the sunrise. The charm of the beauty of the sunrise can be enjoyed from the highest peak around Mount Bromo such as the peak of Penanjakan, Kingkong Hill, Love Hill, Seruni Point, etc. Bromo sunrise appears at 05.15 am, all visitors must leave early in the morning so they can enjoy second by second the sun rises from the east of Mount Bromo.
Hike to the crater. The crater of Mount Bromo is the second destination after seeing the sunrise. To reach Bromo crater, you have to climb to the top of Mount Bromo through a sea of ​​sand and climb 250 stairs. The walking distance from the jeep parking area to the top of Mount Bromo is about 1.5 km. The distance is not too heavy because anyone can do it.
Visit the Savanna and the Teletubbies. The last destination when visiting Bromo is the savanna meadows and Teletubbies hills. But before going to this place you must know when is the best time to visit Mount Bromo, the savanna and the Teletubbies hill because in certain months this area is arid, dusty and less attractive to visit.
Mount Bromo Map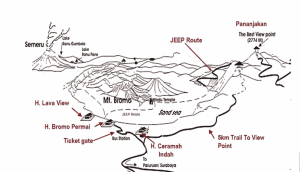 Getting around Mount Bromo
Most visitors to Mount Bromo come for the sunrise tour. If you would like to avoid the crowd, you can consider staying near Mount Bromo. An option would be to stay in one of the hotels at Cemoro Lawang village (e.g. Lava View Hotel).
The usual sunrise tour itinerary will start at 3:30am. You will take a jeep to the nearby Mount Penanjakan to catch the magical sunrise. Once you're done taking pictures and videos of the sunrise and the surrounding scenery, take the jeep down to the 'Sandsea'. Once you reach the 'Sandsea', the objective is to now reach Bromo crater, either by foot or by a pony ride.
It may take up to 1 hour to walk by foot to the crater. A pony ride which will save some time and it will cost you IDR 80,000 (S$8, MYR24, USD6). For a 2-way pony-ride, it will cost you IDR 160,000 (S$16, MYR48, USD12).
Once you are done with your sunrise tour, you may want to consider visiting Madakaripura Waterfall. Located 1 hour 30 minutes away (30km), this beautiful waterfall will make you feel like you are a part of the Jurassic Park movie.
Best Time to Visit Mount Bromo
The best time to visit Mount Bromo for its sunrise is during the dry season, between April and October. During this time, May to August is the best months with the least chance of rain and least amount of clouds.
How to get to Mount Bromo
Start of your journey by getting on a Damri bus from Surabaya's Juanda International Airport to Bungurasih (Purabaya) bus terminal in Surabaya city centre. It will cost you IDR 25,000 (S$2.50, MYR8, USD1) and will take not more than 35 minutes (9 km away).
From Bungurasih bus terminal, look out for PATAS express bus and hop on your way to Probolinggo. The price per person for 1 way will cost you IDR 40,000 (S$4, MYR12, USD2). Do beware of touts that may overcharge you! Some even go the extra mile by dressing in nice batik shirts to deceive you.
Upon reaching Probolinggo, you can take green mini-buses leaving for Cemoro Lawang. For your info, Cemara Lawang is a small town located near Mount Bromo. The mini-buses are usually park near the terminal and will only leave when there is a full capacity. If there are not enough passengers, you may have to wait for a couple of hours before leaving. If this is not an option for you, you will need to pay the full amount to the driver. It will cost you an additional IDR 250,000 (S$25, MYR75, USD18).
Please take note that recently, there are several on-going scams at Probolinggo (for your departure back to Surabaya city). One such example is that there are several non-PATAS buses with PATAS signage at the front of the bus. Remember to only take the official PATAS bus from Bay Number 1 only.
The duration for 1 way will be at least 3 hours, however depending on traffic and seasonality, it may even take longer.
For the safest and hassle-free Mount Bromo Sunrise tour, consider going on one of our private tours: Mount Bromo Tour Package from Surabaya or Malang